In the Mail Saturday is hosted every Saturday at
Mystery Thrillers and Romantic Suspense Reviews
.
I received these in the mail this week.
Hell on Wheels: Black Knights Inc. [Mass Market Paperback]
Product Description
Nate Weller is a crackerjack sniper and masterful covert operative, and he's loved Ali Morgan nearly half his life. But she's his best friend's baby sister, so he keeps his feelings to himself. When she blows into town with a motherlode of bad guys on her tail, all of his protective instincts kick into high gear. But will keeping her safe cost him his heart?
Product Details
Mass Market Paperback: 384 pages
Publisher: Sourcebooks Casablanca (August 1, 2012)
Language: English
ISBN-10: 1402267134
ISBN-13: 978-1402267130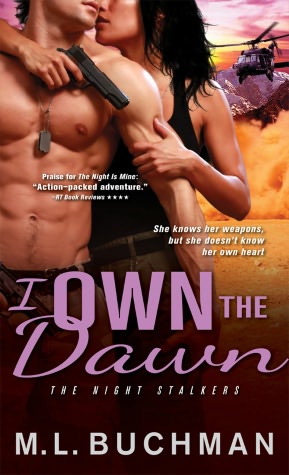 I Own the Dawn [Mass Market Paperback]

Product Description
Kee Smith battled through a difficult childhood to work her way up the ranks of the U.S. Army. When she finally makes it into the elite Night Stalkers, she feels thrilled, honored, and vindicated ... until she finds out she's been assigned to the "girlie-chopper" piloted by the only other woman in the regiment.
Kee is determined to show Lt. Archie Stevenson, one of the male co-pilots, that she is just as tough as the guys. Throughout their special mission, Archie doesn't know whether to make love to her or plant her face-first into the dirt. But he'll do whatever it takes to break through that shield Kee wears around her heart.
Product Details
Mass Market Paperback: 416 pages
Publisher: Sourcebooks Casablanca (August 1, 2012)
Language: English
ISBN-10: 1402258135
ISBN-13: 978-1402258138